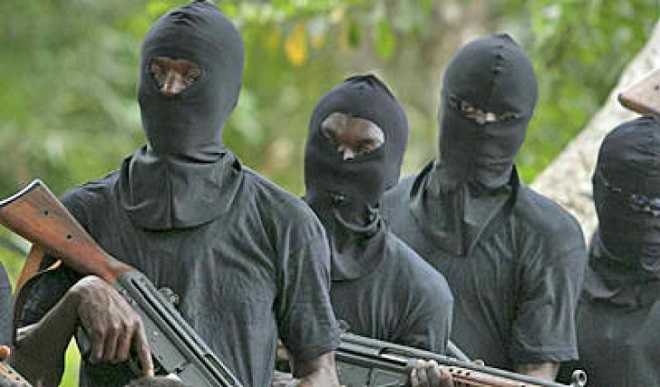 Officers of the Nigeria Customs Service were attacked by some yet-to-be-identified gunmen a distance away from the Naval base in Owerrinta at Umuikaa junction in the Isiala Ngwa South Local Government Area of Abia State last Thursday, Bahdstreetvibes learnt.
Reports made available to newsmen revealed that the assailants attacked the Customs checkpoint at Umuikaa Junction along the Enugu-Port Harcourt Expressway while the officers were on their official duty.
According to Daily Sun, the whereabouts of some of the Customs personnel could not be immediately ascertained following the attack, which reportedly occurred at about 8 p.m.
It was gathered that the gunmen who burnt the operational patrol van of the Customs personnel, equally shot and injured a passenger in an 18-seater commercial bus which ran into them.
The fate of the Customs officials on duty could not be immediately ascertained.
A report had it that some of the personnel sustained gunshot injuries, and were taken away by the bandits. Another claimed that the personnel escaped from the scene unhurt.
Bahdstreetvibes learnt that the injured passenger of the commercial bus was rushed to a nearby hospital, where he was treated.
Daily Sun quoted reports from the area as saying that it took the efforts of soldiers from 144 Battalion, Asa, in Ukwa West Local Government Area and the Forward Operation Base (FOB), Aba, led by Major Hassan Biu, to dislodge the gunmen after operating for over an hour.
The development was said to have left commuters stranded on both ends of the expressway, as they waited for hours while the operation lasted. Some of the commuters trapped in the attack told journalists how scary it was being on at that time of the night with as gunshots rented the air.
An unconfirmed report quoted by the publication claimed that one of the gunmen was arrested by soldiers during the operation. There has been public outcry over the presence of the Customs personnel in the area.
People said it was wrong for the Customs to station its officials in the area searching vehicles for contraband goods after such goods had already been cleared at the port by their men.