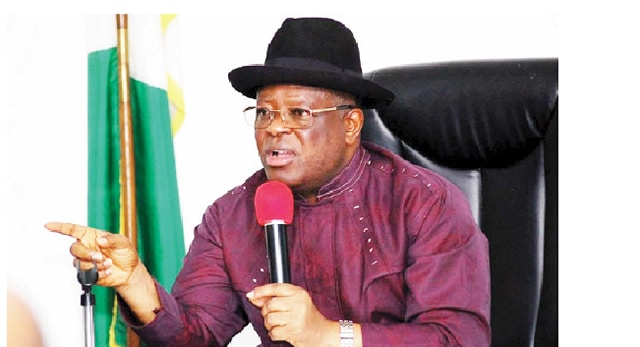 The Minister of Works, David Umahi, has advised the presidential candidate of the Labour Party (LP) in the 2023 general election, Peter Obi, to desist from appealing the judgement of the Presidential Election Petition Tribunal, which validated the victory of President Bola Ahmed Tinubu.
Bahdstreetvibes reports that Umahi, while addressing journalists shortly after a courtesy visit to the governor of Ebonyi State, Francis Ogbonna Nwifuru, at the new Government House, Centenary City, Abakaliki, the capital of Ebonyi State, said Peter Obi will not win at the Supreme Court.
Umahi urged the South Eastern people to join hands and support the administration of President Tinubu, considering the ministerial appointment to the region even when they didn't vote for him well.
However, the former governor claimed that the Igbos voted more than other regions through their support for Peter Obi, which caused a setback for the Peoples Democratic Party (PDP) and paved the way for Tinubu to win the election.
Umahi added that the Tribunal judges did justice to the petitions, adding that Peter Obi had already served the purpose for Tinubu's divine presidency.
He said, "Throughout the campaign period and even now, I keep saying it boldly that God told me that Tinubu will be President of Nigeria. It was tough here in South East but I am very happy that Tinubu eventually became the President of this country. Like I said in Imo State, God has a purpose for everybody. There was John the Baptist, there was Christ and there is still Christ. Peter Obi has served the purpose of John the Baptist for the Divine President Bola Tinubu Ahmed, that's all that God brought him to do this time around.
"So, I advise him not to go to any court of appeal. I am not a Lawyer but the Governor of Ebonyi State is a Lawyer and he has interpreted the judgment and it has left no hope for any appeal. Those judges are spirits. They went into everything and dissected them just like getting a coconut and breaking it. You will get the water and everything and get the nut.
"So, I advise him not to go to appeal, he is not even 2nd, he came 3rd at the election. He is our brother. Let South Eastern people come together to support President Tinubu. He made us the number one Minister even when we didn't vote very well for him.
"But we voted even very well more than other regions because through the calling of John the Baptist, we were able to bring down PDP and that is a victory for APC."