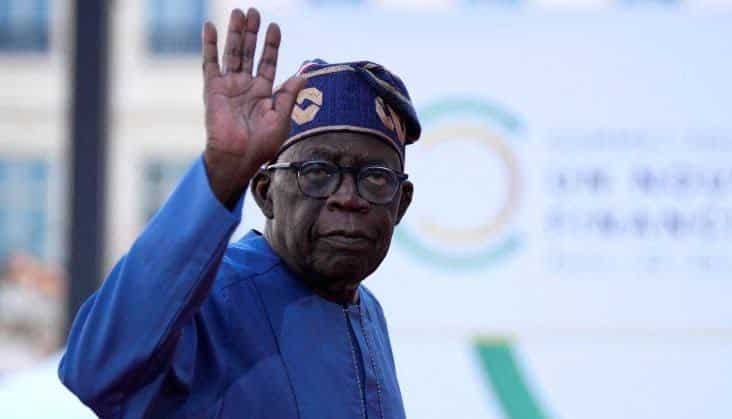 President Bola Ahmed Tinubu had a stopover in Abu Dhabi on Sunday (today) to meet with the leadership of the United Arab Emirates (UAE) to resolve the visa ban slammed on Nigeria and other diplomatic disputes, Bahdstreetvibes learnt.
The President's spokesperson, Chief Ajuri Ngelale, confirmed this in a statement made available to journalists.
It could be recalled that the UAE authorities had in October 2022 slammed the visa ban on Nigerians. The development was coming shortly after the Emirates also suspended flights.
Nigerian carrier, Air Peace, which was also operating in Dubai, similarly suspended its flight as the UAE stopped the issuance of visas to prospective travellers. Emirates had suspended its flight to Nigeria over its inability to repatriate trapped funds.
However, when he hosted UAE Ambassador to Nigeria, Salem Saeed Al-Shamsi, at Aso Rock last month, President Tinubu directed that issues affecting relations with the Emirates Airline, and issuance of visas to Nigerians should be "immediately'' resolved, emphasizing that he stands prepared to "personally'' intervene.
"We are a family in the UAE, we only live in separate rooms, but we are in the same house. We should look at the issues as a family problem, and resolve it amicably. As you know, in every family, there are peculiarities. You can have an erring son or daughter, but we must work together. We need to agree on core aviation and immigration issues," the Nigerian leader had said.
In his latest announcement today, Ngelale wrote: "President Bola Tinubu will meet with the leadership of the United Arab Emirates (UAE) during a technical stopover in Abu Dhabi, UAE, after the President's departure from New Delhi, India."
"The meeting will serve as a follow-up discussion to address specific, salient issues within the bilateral relationship after conversations held during a recent visit by the UAE Ambassador to the President at the State House in Abuja.
"The President is maximizing the opportunity of the stopover to equally advance his investment promotion objectives with high-level authorities in the public and private sectors of the United Arab Emirates.
"Following a successful investment drive on the sidelines of the G-20 Summit, active participation in the G-20 Summit, and a productive stopover in the UAE, the President is expected to return to Abuja immediately following the bilateral engagement."