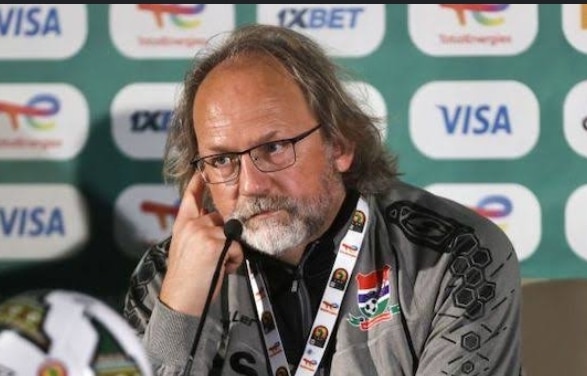 The head coach of the Gambia National team, Tom Saintfiet, has compared the earthquake that happened in Morocco late on Friday, September 8, to the sound of a plane crash.
The 50-year-old Belgian tactician who was in Morocco when the national disaster happened said he thought a plane crashed and landed in his hotel room in the city of Marrakesh.
Saintfiet led the Gambia National team to Morocco to play their final 2023 African Cup of Nations qualifiers against Congo. The game, which is scheduled to kick off at 8 p.m. WAT on Sunday, September 10, was supposed to be held in Gambia, but the governing body of football in Africa, CAF, said there was no suitable venue for the game in the country.
Hence, the game had to be taken to Morocco due to the availability of facilities. However, Sunday's schedule might be changed due to the earthquake as negotiations are still ongoing between CAF officials and authorities in Morocco to see if the game can go on as planned amidst the aftermath of the magnitude 6.8 earthquake.
According to Morocco's interior ministry, more than 1,000 people have been confirmed dead as a result of the earthquake.
Tom Saintfiet referred to the incident as "shocking and terrible" as he confirmed that all his teammates were okay even though they slept outside until the next morning.
"At first, I heard a lot of noise and thought it was someone knocking on my door, " Tom Saintfiet told BBC World Service's Mani Djazmi.
"A few seconds later, I thought that a plane had crashed into the hotel because we were close to the airport but a second or two later, I knew it was an earthquake.
"It seems it was only 30 seconds, but it felt endless. It was really scary. The walls were really shaking and things were falling from the ceiling and the walls. I never in my life saw a building moving like that.
"When it stopped, I started running and checking if my team members were also out of their rooms.
"Then we ran outside the hotel and all went to the pool area and slept there in the open air with the other guests as we were told that we couldn't return to our rooms.
"It was very scary. We heard ambulances all night and kept checking the news. It's a terrible experience for us but most of all for all the casualties who lost their lives and the people of Morocco."
Tom Saintfiet and his Gambian boys are currently occupying the second spot in Group G of the 2023 AFCON qualifiers with 9 points in five games. They need to beat third-placed Congo to secure their place in the tournament alongside first-placed Mali.