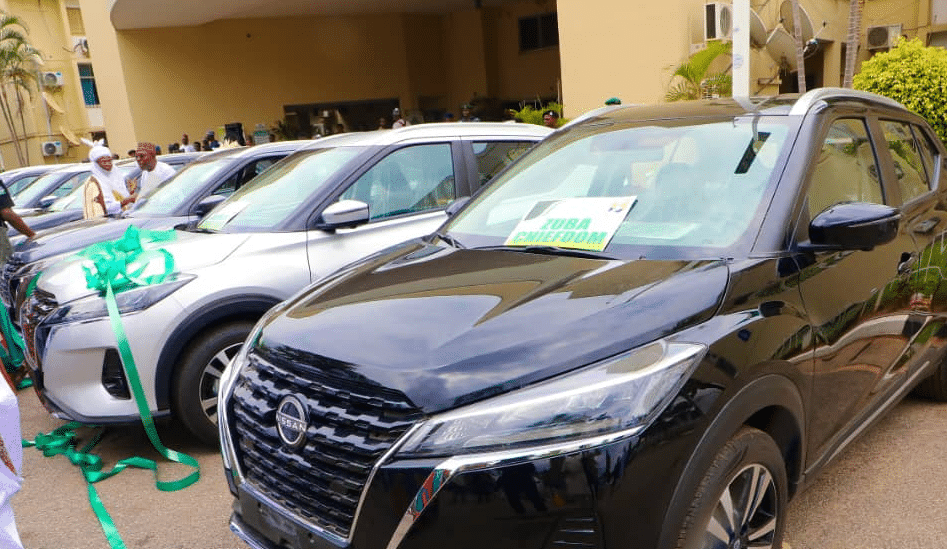 There have been mixed reactions following the decision of the Minister of the Federal Capital Territory (FCT), Nyesom Wike, to gift cars to traditional rulers in Abuja.
Bahdstreetvibes recalls that the minister on Friday announced the donation of 10 Nissan Semi SUV cars to traditional rulers as a way to aid the fight against insecurity.
According to the minister, the gesture was part of the government's efforts to ease the mobility of the traditional leaders, because critical partners in curbing criminality, and his administration would work closely with them.
He said that in line with the renewed agenda of President Tinubu, every stakeholder has a role to play, including traditional rulers, particularly in the area of security.
Wike said: "Part of that is mobility. I can't see how traditional rulers will be boarding taxis or entering public transport. That is unacceptable. President Bola Tinubu has directed that that should not be allowed to continue. He has asked that we do everything possible to make it convenient and easy for you to do your assignment.
"You know your community better than anybody; you know the people within their community, so you will be able to identify those who look like strangers.
"No agency will perform its function without the support of traditional rulers, and we believe that we must partner together to achieve the fight against insecurity.
"So today we are going to hand over 10 vehicles to you to please help in supporting the government to fight insecurity in your domain. Be sure that we are going to work together. If we don't work together, we will not achieve results, because everybody is important in the fight against insecurity."
However, mixed reactions have trailed the minister's gesture, as some have taken to social media to condemn him, while others have applauded and cheered him on for his good work.
See some of the reactions below.
@Ab_it said: "To improve security, you provide new vehicles for traditional rulers. Nyesom! Are you okay ?"
@amjkingz wrote: "Very nice step this is one of the ways to lure the indigenous chiefs to collaborate with the FCT ministry in development and security. I see nothing bad he's just doing the right thing."
@juicy_christy wrote: "When the time is right.. they must pay back with their votes… nothing goes for nothing..who no know Wike??"
@OlatunjiLawal2 said: "Governance is a continuum! I haven't seen him personally condemn the former president or the former minister but rather focused on the civil servants. This obviously was done by the last government; it is, however, unfortunate that the last minister dropped the standard."
@abdullahi_harry wrote: "I salute you sir, we urge you to please intensify your efforts on securing the FCT as kidnapping is returning to some villages in Bwari and Kuje."
@Dickson Victory said: "People that have cars already, how does that help the poor masses."
@Christy Juicy wrote: "When the time is right.. they must pay back with their votes… nothing goes for nothing. Who no know Wike?"
@Alausa said: "God bless our Minister. You are a rare gem. Kindly remember Pegi Community in Kuje Area Council, sir. 2km road out 14km done so far. The project was abandoned even after the immediate past minister boasted on the TV about it. We are counting on your pedigree, sir."
@Olabisi Abimbola said: "And so the cycle of wasting limited resources begins. Shey na cars all these traditional rulers no get, cause I no understand."
@Nandi David said: "You're are doing well. It's now that we see the semblance of governance in FCT since the days of El-Rufai. Blessings"