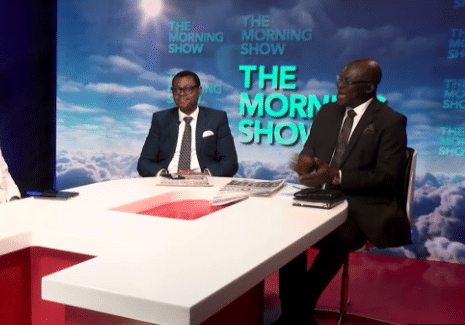 Arise TV lead presenter Reuben Abati, on Friday, clashed with his colleague, Rufai Oseni,  during their show over a statement regarding the broadcast of the EndSARS protest on October 20, 2021.
Bahdstreetvibes reports that Oseni, during a birthday message to his colleague, Tokunbo Oyetunji, said the celebrant risked his life to cover the protest in 2021, adding that no other media house was willing to go on the street to cover the event.
Countering Oseni's claim, Abati said it was not only Arise News that covered the protest, saying other media houses covered the protest in Lagos State.
The former presidential spokesman also asked his colleague not to exaggerate the matter beyond what it is.
Not satisfied with the reply, Oseni reiterated that it was only the news organization that covered the protest, but Abati interjected again and said other media houses covered it.
Watch the video below.
PEPT: Arise TV Anchor Rufai Oseni Clash With Studio Guest (Video)
In a similar development, Oseni clashed with a studio guest, Jesutega Onokpasa, on air over a remark made to another guest, James Ezike.
Bahdstreetvibes reports that Oseni had demanded an apology from Onokpasa for berating Ezike for questioning the integrity of the judges that upheld the right to return President Bola Tinubu as the duly elected by a majority of lawful votes cast.
Ezika, a constitutional and commercial lawyer, questioned the reasons given by the judges for dismissing the petitions filed against the emergence of Tinubu as the winner of the 2023 polls.
Irked by Ezika's comment, Onokpasa expressed disappointment, saying, "if he were that great a lawyer, maybe he would be a Supreme Court judge. It is highly unfit of him to impugn the integrity of their lordships"
Taking aback by the statement, Rufai interjected and asked Onokpasa to take his words back and apologize to his colleague.
Rufai held that it was wrong for Onokpasa to attack another guest in a condescending manner on the show.