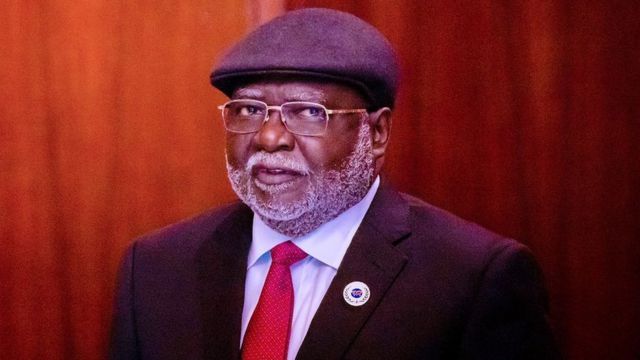 The Deputy National Youth Leader of the Peoples Democratic Party (PDP), Timothy Osadolor, has advised the Chief Justice of Nigeria (CJN), Justice Kayode Ariwoola, not to be part of the panel of the Supreme Court that will review the Presidential Election Petition Tribunal (PEPT) judgment.
Recall that PEPC had on Wednesday, September 6, 2023, delivered judgment upholding the election of President Bola Tinubu of the All Progressives Congress at the February 25th presidential election.
The presidential candidates of the Peoples Democratic Party and Labour Party, Atiku Abubakar and Peter Obi, respectively, rejected the court's judgment, vowing to approach the Supreme Court.
Bahdstreetvibes reports that Osadolor gave the advice against the backdrop of a statement credited to the CJN in the past, endorsing Oyo State Governor Seyi Makinde's membership of the G-5, a group made up of some aggrieved governors opposed to Iyorchia Ayu's chairmanship of the PDP after Atiku emerged as the party's candidate.
In November 2022, as a special guest of the Rivers State Government in Port Harcourt at a banquet organised in honour of the then Governor, Nyesom Wike, Justice Ariwoola lauded Makinde's membership of G-5, a development that was criticised by the National Working Committee of the PDP at the time.
"That is why we should not be scared to have these men of the integrity group. I am happy that my own Governor (Makinde) is among them because he would try to imitate his friend and in-law because we came here to marry for my Governor.
"So, Governor Wike will always threaten that he will call back his sister if my Governor fails to play ball. That is why you see him following His Excellency (Wike) because my Governor is afraid of his wife being recalled," the CJN said in 2022, drawing condemnation.
Speaking with Saturday PUNCH, Osadolor said, "I would expect the CJN, after the gaffe wherein he exposed his partisan self with his declaration of support for the then G-5 when he got too excited, to recuse himself from any panel that is constituted for political reasons, particularly one as sensitive and important as the one to look into the PEPC judgment that is contentious and vexatious for a wide range of reasons.
"He should not do anything to taint the image of our judiciary further. The whole world is watching, and he, of all people, should know better that his membership of the panel would raise several questions."