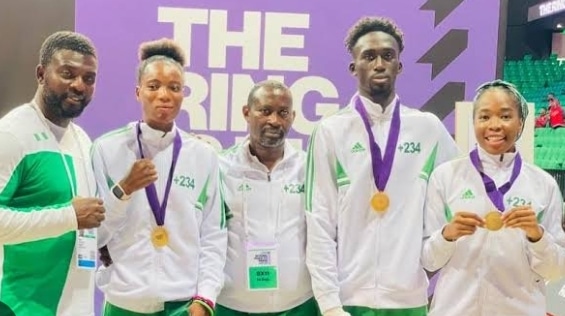 Three Nigerian boxers have qualified for the 2024 Olympic Games in Paris after winning the African Olympic Boxing Qualifications final.
The qualifications final which took place in Dakar, Senegal on Friday, September 15, had nine Nigerian boxers in attendance coached by former Olympians, Anthony Konyegwachie and Adura Olalehin.
After the first set of rounds, eight of them advanced to the quarterfinals, six advanced to the semifinals, and three advanced to the final, where they all won gold medals by defeating their rivals.
In the Women's 60kg division, Cynthia Ogunsemilore of Nigeria and Khelif Hadjila of Algeria engaged in heated combat. At the end of the bout, the Nigerian star won her opponent with an unexpected unanimous decision victory (5-0) and earned the first gold medal for Nigeria.
Joshua Omole picked up where Ogunsemilore left off in the Men's 57kg class when he entered the ring to face Leta Yadesa of Ethiopia. Omole also won the featherweight gold medal by unanimous decision (5-0).
The Men's 92kg competition featured a match between Adam Olaore and Houmri Mohamed of Algeria. Olaore demonstrated his tenacity by overcoming the opponent by a split decision (4-1) which earned him his second African championship and became the third Nigerian boxer to qualify for the Paris 2024 Olympic Games.
At the end of the African Olympic Boxing Qualifications tournament, Team Nigeria brought home a total of six medals, including three golds and three bronzes from Patricia Mbata in the middleweight category, Adeola Oyesiji in the flyweight category, and Nene Ojo in the featherweight category.