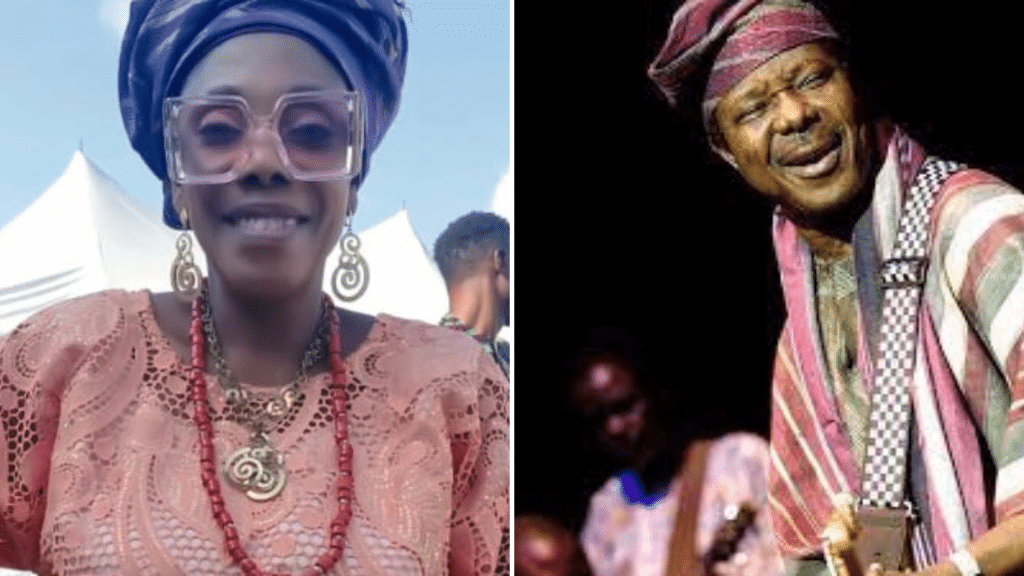 Actress and wife of popularly Juju Music legend, Chief Sunday Adeniyi Adegeye, popularly known as King Sunny Ade, Mrs. Bose Olubo-Adegeye, has revealed what it takes to be a wife to the music legend.
According to her, when you are one of the wives of King Sunny Ade, you don't have to think about other women who love him; all you need is to play your role as a wife.
The actress, who described the last 32 years of marriage with the music legend as wonderful, noted that all it takes is to do what is expected of you, and once he loves, then there is no problem, Bahdstreetvibes gathered.
Olubo-Adegeye, in an interview with the Nigerian Tribune, revealed that the musician is a good husband to his wife and a great father to his children.
She said, "When you are a wife to King Sunny Ade, you don't think about such. As a wife of King Sunny Ade, you are expected to play your role, and you don't mind all that because you are doing what is expected of you, and your husband loves you.
"What should be paramount in your mind is a happy home for you and your children. Regarding the availability of other women and how I see it, I have not thought about that in a long time. I'm not the first, I'm not the second. We are all loving women in the house, and we don't have such thoughts because it is a happy family."
Reminiscing about what their marriage has been like all these years, the actress submitted, "It's been wonderful. The last 32 years have been great. He has been a loving husband and a wonderful father to the children. He cares about the family a lot.
"He wants everybody to be happy and joyous as we see him on stage. At home King Sunny Ade wants the children to be happy, and he wants to be happy among all of them. That is one of the many good things about my husband."
Speaking about how she has been able to cope with co-elder wives, Olubo-Adegeye, explained they all have made life livable for her in the marriage.
She further pointed out that she also acknowledged that she met them in the house and has always given them the respect due them. Adding that they are like her mothers and sisters.
"I met my mothers in the house – they are my mothers, they are my sisters. I met them in the house. So, this makes it easier for me. They make life very livable and enjoyable for me, and I really thank them for their support. It is one very happy family. I thank God," she remarked.